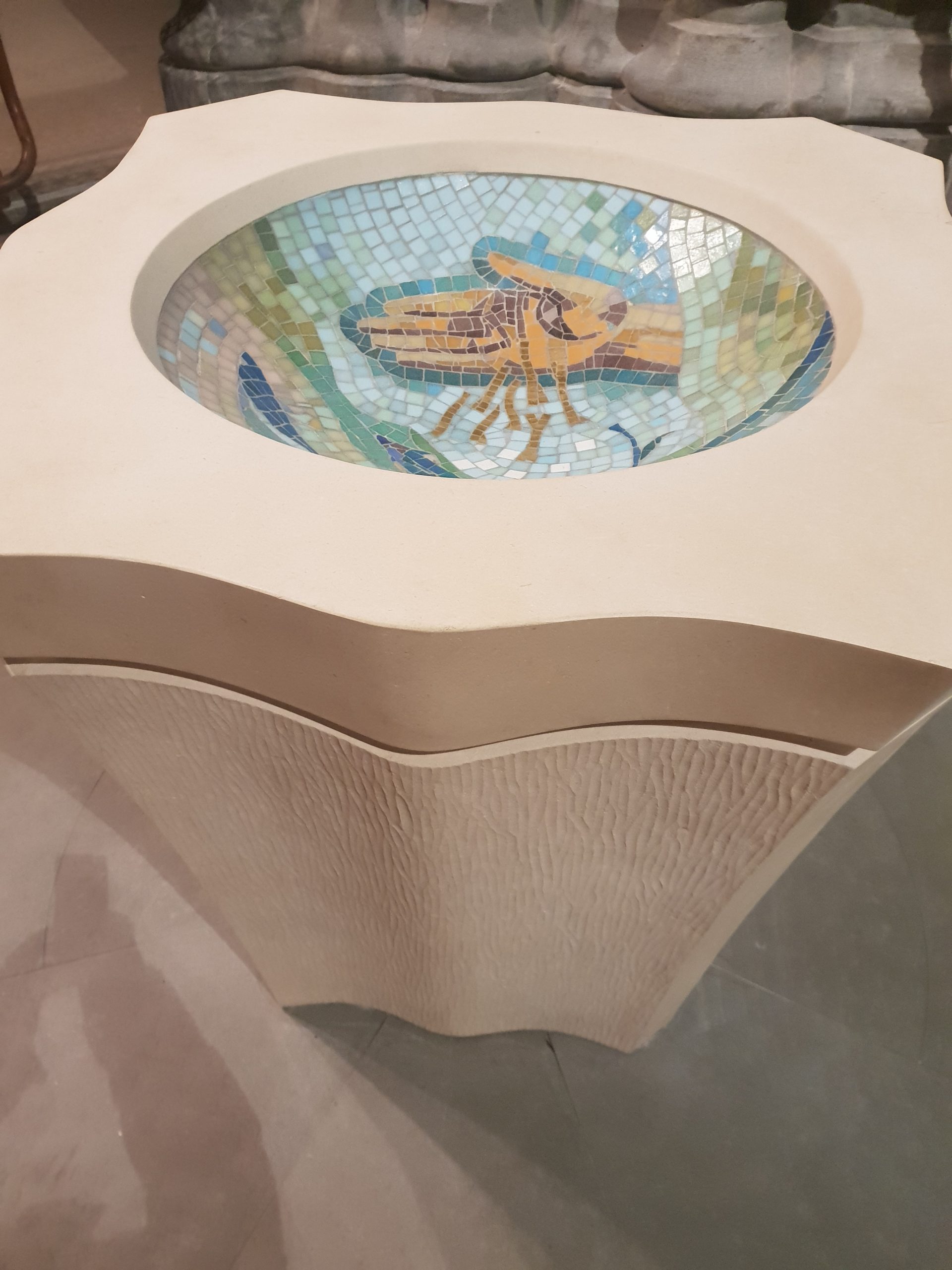 In January 2020 Bishop Farrell invited Mr Paul O'Daly, a liturgical architect, to St Mary's Cathedral to begin a conversation on the refurbishing of the sanctuary. Mr Thomas Glendon, stonemason and letter writer, was invited by Bishop Farrell in December 2020 with Mr O'Daly to visit the cathedral. Bishop Denis Nulty, Apostolic Administrator of the Diocese of Ossory, continued the work begun by Bishop Farrell upon his translation to Dublin. Following discussions with and approval from Kilkenny County Council the work commenced in December 2021 under the guidance of local architect Brian Dunlop. The redesigned sanctuary was consecrated by Bishop Nulty at Easter 2022 and has been admired by many. The altar, ambo and font are hewn from Combe Brune Limestone and mimic the design of the columns of the cathedral.
This Easter, 2023, the final part of this work has been completed with the installation and consecration of a new Baptismal Font. Under the guidance of Thomas Glendon and Paul O'Daly the completed baptismal font arrived in Kilkenny on Wednesday. Bishop Coll consecrated the baptismal font during the Easter Vigil – a fitting evening for this ceremony.
The final piece of this work has also been designed and carved by Thomas Glendon. The mosaic is the work of Laura O'Hagan. Based in Wicklow Laura's work can also be seen in St Mel's Cathedral in Longford. She has freely and creatively interpreted the design concept given to her by Thomas Glendon. The hand, representing the Father, is open in a gesture of blessing. From the open hand flow seven gold threads representing the seven gifts of the Holy Spirit. Fish swim freely in the swirling waters in the abundance of God's gift. The fish are also to be found in the two angel carvings of John Hogan the Younger.