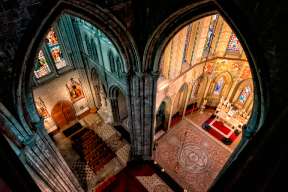 Bishop Nulty will celebrate mass in St Mary's Cathedral on Sunday 27th at 5.30pm during which he will bless the new ambo and consecrate the new altar.
After three months of work in the cathedral, we are now ready to re-open the sanctuary.  A new altar was commissioned from renowned stonemason Thomas Glendon and an accompanying ambo has also been carved.  In conjunction with this work a new floor has been designed and installed in the sanctuary, the entrance step has been altered and the statues of Our Lady and St Joseph have been re-instated in their original positions in the Cathedral.
Local architect Mr Brian Dunlop has overseen the project.  The liturgical design is that of Mr Paul O'Daly.  Inspired by the original design of the Cathedral Thomas Glendon has carved an altar from Combrune limestone.  The original pieces reflect the curves of the stately pillars of the tower of St Mary's.
Local builder Kevin Moore has provided its skilled workforce to work with the various artists and specialists who have been part of the work.  Donal McDonald has restored the two side chapels of Our Lady and St Joseph.  Jodi O'Dwyer has worked on the mosaic floor and the original black and white tiles of the centre nave.  Pat and Robert Walsh of Marble Care Services have cleaned the pillars and also restored the original tiles.  Rourdhai Broderick, Moroney Electrical, Pat Cody and Nirvana Lighting have worked with Ronan Mealy of RMCE to upgrade the electrics and audio system.  Restoration work in the side chapels was carried out by O'Brien Painters of Durrow and Sheridan Stainglass of Kilkenny.  Dermot O'Shea of David Kelly Partnership provided engineering consultancy services.