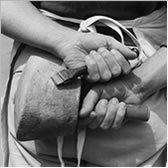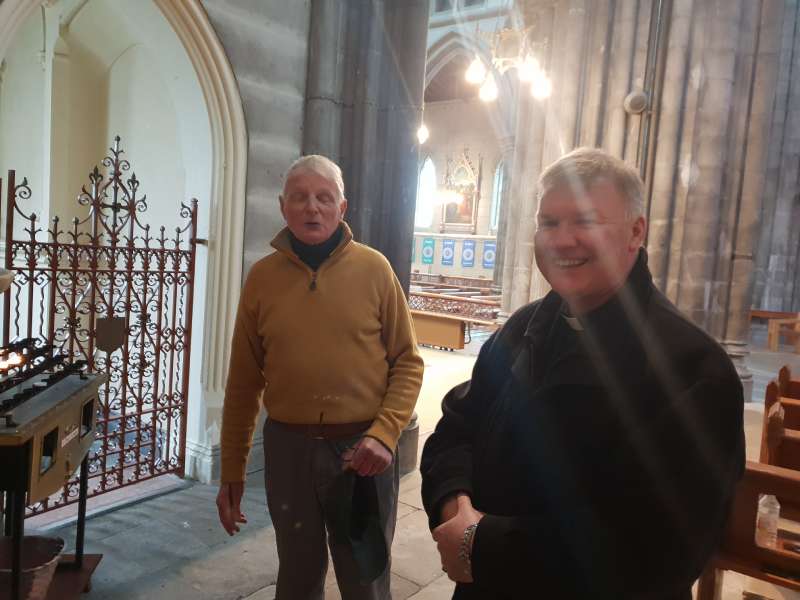 Bishop Coll visits the Cathedral to witness the work in progress.
Thomas Glendon, Letter Cutter and Stone Mason, visited St Mary's Cathedral on 9 March to carve the inscription of Bishop Coll's name on the list in the North Transept. This list, stretching back to St Kieran, was compiled by Bishop Moran in the 1880s.
Bassett's publication of 1884 on Kilkenny City and County makes reference to the two tablets that were in preparation at their time of publishing.
Thomas is the master craftsman who has carved the new altar, ambo and baptismal font in the cathedral. A long-standing Irish Master Craftsman who specializes in sculpture, letterform, ecclesiastical work and design in stone, wood and bronze Thomas's work can also be seen in St Mel's Cathedral in Longford.
He learned the basic skills of his trade while working in his father's stone yard in Deans Grange, Dublin. After serving an apprenticeship with Michael Biggs, one of the best stone carvers in Ireland, he moved to Limerick in 1974 where he set up a workshop specializing in inscription, design and carving. Returning to Dublin in 1982, he established a workshop at Bray. His workshop is now in Loughgrea where his work can also be seen in St Brendan's Cathedral.
Thomas uses chisels and hammers that are specially designed to insure a delicate touch to the letterform.
Commenting on the original work the type and design of the inscriptions are beautifully carved. He notes a change in design and details from 1884 when start and finish dates were included. Thomas continues this form in completing the details of Bishop Dermot Farrell (now archbishop of Dublin) and those of Bishop Coll.